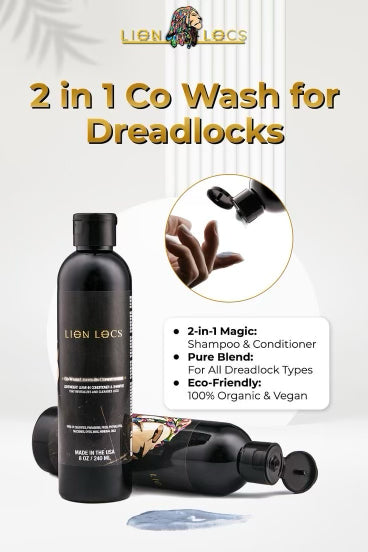 2 in 1 Co Wash for Dreadlocks
• 2 in 1 co wash is a shampoo and conditioner perfect for washing or a leave in
• Reduce breakage and split ends while cleaning and nourishing
• Won't damage or dry out your locs
• Handpicked natural ingredients for all loc hair types
• 100% Organic, Vegan and cruelty-free
Directions:
Take a dab size amount depending on loc size and length. Rubs hands together till cream is warm and melted. Apply it to hair in sections. Do not over apply.
Leave-In:
Massage gently into dry roots to tips of scratchy locs until hands glide through dreads easily. This is the perfect amount! Apply as needed between washes to rejuvenate & hydrate hair as desired.
Co-Wash: (8oz Shampoo/Conditioner)
Massage gently into scalp to tips of scratchy locs until hands glide through dreads easily. Leave in hair 2-5 minutes depending on loc maturity. Rinse. Repeat if necessary until hair is revived as desired.
Ingredients worth bragging about:
ORGANIC ALOE LEAF JUICE, JOJOBA OIL, ARGAN OIL, CASTOR OIL, HYDROLYZED WHEAT PROTEIN, PROVITAMIN B5, VITAMINS A & E, MEDIUM CHAIN TRIGLYCERIDES, VEGETABLE GLYCERIN, MEADOWFOAM SEED OIL, MUSTARD OIL, GREEN TEA LEAF EXTRACT, ROOIBOS LEAF EXTRACT, ACTIVATED CHARCOAL, YLANG YLANG, MSM SULFUR, FRAGRANCE (NATURALLY DERIVED).
See How It Works
Say goodbye to chemicals, residue, and build-up.
YES! IT'S GREAT FOR ALL LOC TYPES
YES! IT'S FOR ALL GENDERS
YES! 100% ORGANIC CO WASH
CO WASH FOR LOCS
How We Reinvented Co Wash
Our co wash for locs is more than just shampoo and conditioner, it's a moisturizer. It helps breakage and split ends while cleaning and nourishing your locs.
WHAT IS CO- WASH?
Co-washing is using conditioner in place of your shampoo. Many shampoos are formulated to include sulfates—detergents that clean hair thoroughly, but can actually strip natural oils and moisture from the strands of your hair, leaving them dry and more prone to breakage. By cutting down on the use of shampoo via a co-washing regime, your hair is able to maintain its natural moisture levels, so it can grow stronger and more resilient.
HEALTHY CLEANSE
Over the counter shampoos are filled with chemicals that are detrimental to your hair and scalp. Wash your hair with confidence knowing this co-wash, shampoo combo is packed with hearty, impactful elements. Penetrate deep into your hair and scalp to remove debris, build-up, and residue safely.
LIGHTWEIGHT & RESTORATIVE
Rebuild and replenish depleted roots, dry, and damaged hair without heavily weighing your hair down. This robust cream has an extensive list of awesome ingredients that revive damaged split ends and prevent future breakage.
The Truth! I swear by this stuff. I do not have your traditional set of locs because my hair is naturally very soft and curly. I found myself having issues with my hair becoming more weighed down then I am use to so I decided to try a different moisturizer...I'm glad I did! It leaves my hair lite and smelling good.
- Chef Tee
Best Co-wash
Have been using this co-wash as a deep conditioner for over a year. Just love the effect it has on my baby microlocs journey.
2 in 1 Co Wash
Love the representation and the product. It smells great and I will shop with this seller again.
Awesome Product
Premium quality with great natural ingredients. I would purchase nothing else
Works well for me
I love these vegan hair products. My hair feel happier and I'm more happy now as I'm gaining confidence with my locks.
JoJo,Baltimore Md
I ABSOLUTELY very, very, very SATISFIED with this product. I tried it for the first time and according to the reviews I read, they are absolutely on point. My Locs came alive and didn't look dull. Thank you for this product and I would recommend too everyone I know.❤️❤️❤️
Co Wash FAQs
Yes! Lion Locs products moisturize your scalp with natural ingredients, helping to stop dandruff at the source.
Yes! Lion Locs products moisturize your hair with natural ingredients, helping to repair and prevent split ends.
Lion Locs is made from 100% organic ingredients, and uses essential oils with natural benefits where other companies use harmful chemicals.
Absolutely not! Only vegetable-based glycerin is used in Lion Locs products.
Washing your locs too often might lead to your scalp becoming itchy and dandruff-prone, while not often enough can cause build up. Ultimately it depends on your personal biology and activity level but Lion Locs products can also help offset moisture loss from shampoo.
How Many Ounces In A Bottle?
The Lion Locs Locking Moisturizer comes in an 8 oz. quantity.
We ship products within 1 to 2 business days. COVID-19 may cause unexpected delays.